News Feed
You may have noticed some changes to the live T bus tracking in the UT mobile app. TransLoc, the company that provides the tracking ability, made some changes to the way our app can integrate with their system. The same functionality is still there, but it does look different.
Another alternative is to download the TransLoc app. Let us know which one you prefer.
The fall timetable is now available. Priority registration for fall courses begins March 10. More information, along with registration dates and deadlines, is available here. Summer school registration opens this Wednesday.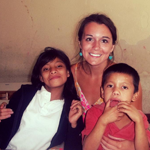 This summer, six members of Nourish International will travel to Guatemala to teach a variety of subjects, including English, to children. The project aims to increase the literacy rate and enable children to improve their lives.
Congrats!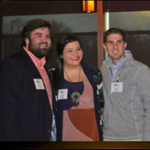 Congratulations to the 170 seniors honored for their commitment and service to UT at the first Senior Impact Dinner. The chancellor and members of the Alumni Board thanked students for their work.
Reminders
The VolShop is having a Valentine's clearance event through Friday. Students will receive an additional 15 percent off clearance merchandise.
Need to relax during midterms? Stop by Hodges Library or come down to the third floor for a visit with HABIT therapy dogs. These furry friends will be there from 10:00 a.m. to 1:00 p.m. and 4:00 to 5:00 p.m. on Wednesday and Thursday.
Jobs & Internships
Macy's Store Management Summer Internship
Interns will be paired with a mentor and exposed to the day-to-day events of a dynamic, fast-paced industry. Areas of focus will include customer service, store operations, associate development, and human resources.
For more information on these and other jobs and internships, log in to Hire-a-VOL via MyUTK.
Involved
Representatives of student organizations that plan to apply for fall 2014 funding are encouraged to attend this informational meeting at 5:30 p.m. March 5 in the UC Crest Room.
Graduate Students
Graduate Student Senate will host its next meeting at 5:30 p.m. Wednesday in the Law Building Room 132. All are welcome to attend.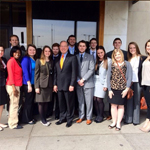 Chancellor Cheek enjoyed sharing lunch last Wednesday with a group of UT students who are Tennessee legislative interns this semester.

Tuesday, 4:00 p.m., UC Room 221
Are you considering a career in helping professions? Do you need help deciding which major to choose? Hear from a panel of professionals and educators in mental health counseling, school counseling, psychology, and social work.
Tuesday, 4:30 to 6:30 p.m., Melrose Hall F103
The OUTreach: LGBT and Ally Resource Center is celebrating four years of community, advocacy, and visibility. Vice Chancellor for Diversity Rickey Hall will speak at 5:15 p.m.
Wednesday, 8:30 a.m. to 4:25 p.m., Communications Building Patrick Auditorium
The Communication and Information Research in a Global Environment symposium will include poster sessions, paper presentations, and a keynote address.
Friday, 3:30 p.m., Baker Center for Public Policy
Learn strategies for getting involved in meaningful public service and how to maximize your leadership potential. Hear more about public service and leadership opportunities.
All events are free unless otherwise noted.
Visit the UT Event Calendar for more events and activities on campus.
For more news and updates, visit the UT Current Students page.
Visit go.utk.edu for a list of campus groups and clubs.
Student@Tennessee is an electronic publication sent for the benefit of current students, welcoming submissions from students, faculty, and staff regarding upcoming events, honors, and other news.
To submit, email us at [log in to unmask]