News Feed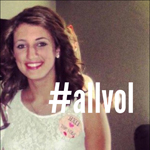 Nadine Majaj, a senior from Collierville, Tennessee, is All Vol. She is pre-pharmacy majoring in food science and technology with a biology minor. She loves the pride that her fellow students have in our school, and enjoys a good "GO VOLS!" shout out anytime, anywhere.
When she's not in class, Nadine spends her time serving in multiple campus organizations, being outdoors, and spending time with friends. Hear more of Nadine's I'm All Vol story.
All four candidates for vice chancellor for student life have completed campus visits as part of the interview process. The archived webcasts for each candidate's public session are now available on the search site.
If you did not get to attend the sessions, take a look and plan to share your thoughts about which candidate you think is best to serve as vice chancellor and lead the Division of Student Life, which includes Career Services; the Student Counseling Center; Office of the Dean of Students; Student Activities; Student Judicial Affairs; Student Publications; Fraternity and Sorority Life; Disability Services; University Center; Recreational Sports; the Safety, Environment and Education Center; New Student and Family Programs; the Center for Leadership and Service; Student Health Center and University Housing.
The search committee will be receiving feedback through the online anonymous web link until noon on Tuesday, October 8.
Reminders

When there's a threat of an active shooter on campus, it seems straight forward to run, hide, or fight. However, sometimes the stress of an emergency situation can impact your ability to think clearly and act. It's important to plan ahead and practice. Learn about different barricade practices in an emergency situation.
Head to Presidential Courtyard for the Beat the Bulldawgs Car Bash from 10:00 a.m. to 7:30 p.m. tomorrow. The National Residence Hall Honorary got an old junk car and spray-painted it Georgia colors. Students can pay $1 to beat it with a sledgehammer!
Join the sisters of Alpha Omicron Pi at 12:30 p.m. this Saturday at Circle Park to raise money and awareness for the Arthritis Foundation! Tickets are $6 and include lunch catered by Buddy's Barbecue, cornhole games, and music before the football game.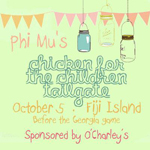 Phi Mu will host Chicken for the Children, at 12:30 p.m. on Saturday at Fiji Island. Tickets are $5 and include food, cornhole, and other games. Proceeds benefit East Tennessee Children's Hospital and Children's Miracle Network Hospitals.
Involved
Are you being the best you can be? Mark your calendars for the first-ever UT Male Summit. Hear from Coach Cuonzo Martin and learn what you can do academically, socially, and personally to make a change in yourself and on campus. The summit takes place from 3:00 p.m. to 9:00 p.m. on October 11 in the UC Shiloh Room. The event is open to all male students and is sponsored by the Student Success Center.
Volunteer
Out and about in Knoxville
Brakebill Nursing Home is looking for volunteers to assist in making fair-type treats and helping with games including cornhole, cake walk, and bingo during the annual Country Fair on Friday, October 11.
For more on- and off-campus volunteer opportunities, visit Sign Up to Serve.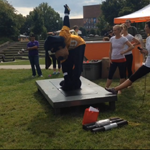 We're sure you knew that Smokey could dance and cheer, but did you know he's in to yoga too? Smokey led stretches during the first annual Yoga Fest yesterday at Humanities Ampitheater!
Top Tweets
@PrattyOnNow @UTKnoxville rocks in every way. A girl's gotta eat & I like keepin it #fresh w/ these #peppers on campus.

Tonight, 5:00 to 7:00 p.m., Circle Park
Celebrate a successful end to the College of Communication and Information's Diversity and Inclusion Week at the CCI Diversity Festival. There will be free food, entertainment, and carnival games! All students in all majors are invited to attend.
Tomorrow, 12:00 to 1:00 p.m., Pedestrian Walkway
Join Student Alumni Associates in celebrating Smokey's 60th birthday! In 1953, Smokey was chosen as UTK's official mascot! From 12:00 to 1:00 p.m. tomorrow drop by Pedestrian Walkway for some cake. Plus, you'll see Smokey the Mascot and Smokey X himself in attendance!
Tomorrow, 3:00 p.m., Hodges Library Auditorium
Four Hollywood producers will talk about their work and explain how projects like The Hunger Games, World War Z, and more get made. The panel includes Matt Milam, UT graduate and senior vice president of motion picture production and development for Skydance Productions.
Saturday, 11:30 a.m., UT Institute of Agriculture
Exciting changes await you during AgDay with live music, animals, free ice cream, mascot Smokey, and even an insect petting zoo. Check out the new Large Animal Hospital and the renovated Food Science and Brehm Animal Science buildings.
All events are free unless otherwise noted.
Visit the UT Event Calendar for more events and activities on campus.
For more news and updates, visit the UT Current Students page.
Visit go.utk.edu for a list of campus groups and clubs.