News Feed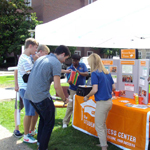 Need extra help with a class? Ever feel like there are not enough hours in the day to get it all done? Want to start taking better care of yourself by managing your stress?
Vol Success Seminars are designed to supply you with the knowledge and resources to be successful, inside and outside the classroom.
Nine workshops, including Effective Study Habits, Financial Facts 101, Managing Your Time and Goal Setting, and Stress Management and Healthy Living, will help you learn about important academic and personal topics.
Reminders
We know it's a little noisy with work on the foundation of the first phase of the new student union producing some additional noise around the construction site this week. We want to let you know that the extra noise should finish by tomorrow.
You never know what Mother Nature may throw at you. The good news: If you know what to do in case of a tornado, you will probably survive the sharknado! Most emergencies boil down to a choice between sheltering and evacuating. Do you know what to do during a tornado, fire, or earthquake?
Multicultural Student Life is planning a one-day campus-wide "Day of Dialogue" on Friday, October 4, giving you an out-of-class experience to discuss cultural differences and explore current topics related to diversity.
Involved
If you are interested in learning about and dicussing how people communicate with each other and in organizations, you should join the Communication Studies Club. The group will hold a welcome back meeting at 5:30 p.m. today in the Communications Building Scripps Lab.
Looking to showcase your talents and represent the Class of 2017? The Multicultural Mentoring Program will hold an interest meeting for the annual Freshman Pageant at 6:00 p.m. today in UC Room 225. The pageant is open to all freshman students, both male and female.
Volunteer
Out and about in Knoxville
Serving women and their families in the Knoxville area, the YWCA has many volunteer opportunities including their Victim Advocacy Program, Transitional Housing Program, health and fitness, Phyllis Wheatley Center, and special events for you to assist with this semester.
Goodwill Industries needs volunteers for various two- to four-hour shifts from 9:00 a.m. to 9:00 p.m. on September 19 at the Hilton Downtown for their Vintage Fashion Show. You can help set up the store or the fashion show area, or assist with guests. To volunteer, e-mail Adrienne Hendon.
For a list of more on- and off-campus volunteer opportunities that you can get involved with throughout the semester, visit the Sign Up to Serve page.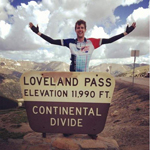 UT senior Jack Johnson completed a 4,000-mile bike tour called Journey of Hope this summer for Pi Kappa Phi fraternity 's philanthropy Push America, riding from San Fransisco to Washington, D.C. Congrats on your amazing accomplishment, Jack!
Share with Us
Vote for Smokey in the next round of the Capital One Bowl Mascot Challenge. Use the hashtag #CapitalOneSmokey on Twitter and Instagram!
Top Tweets
@stefsaysgovols Happy birthday @UTKnoxville! I hope I look as good as you when I'm 219.

Tomorrow, 12:00 p.m., Hodges Library Room 129
Spike Lee directs this quietly gripping documentary that examines race relations and civil rights in the 1960s by exploring the 1963 bombing of the Sixteenth Street Baptist Church in Birmingham, Alabama.

Tomorrow, 8:00-11:00 p.m., Relix Variety Theatre, $7
Rock out to four amazing local bands during this UT student United Way fundraiser, combining great music with fundraising and volunteer connections.
Saturday, 9:00 a.m.-2:00 p.m., UT Gardens
Shop for some unique and cutting-edge plants to spruce up your garden, apartment window, or porch at the University of Tennessee Gardens.
All events are free unless otherwise noted.
Visit the UT Event Calendar for more events and activities on campus.
For more news and updates, visit the UT Current Students page.
Visit go.utk.edu for a list of campus groups and clubs.
Student@Tennessee is an electronic publication sent for the benefit of current students, welcoming submissions from students, faculty, and staff regarding upcoming events, honors, and other news.
To submit, email us at [log in to unmask]