News Feed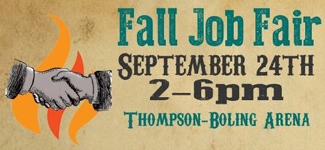 Even though the school year has just begun, it's never too soon to start working on your career goals post-graduation. The Fall Job Fair is the perfect opportunity for you to begin your search for internships and full-time entry-level jobs. The fair brings more than 170 corporate employers, government agencies, and nonprofit organizations to campus to meet our students.
Many of the organizations will be interviewing the following day or later in the semester. Dress professionally and bring several copies of your resume. The fair takes place from 2:00 to 6:00 p.m. tomorrow at Thompson-Boling Arena.
Reminders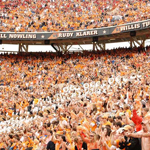 Don't forget to request your tickets for the Saturday, October 5, football game against Georgia on Wednesday and Thursday by visiting Big Orange Tix. Tickets for the following home game, against Auburn, will be available for request on October 30 and 31.
The Fall Fest Street Fair starts at 5:30 p.m. on the Pedestrian Walkway on Friday. The event will host various offices and campus organizations showcasing student involvement opportunities and campus resources.
After the fair, stick around the Pedestrian Walkway and Humanities Amphitheatre for a free concert at 8:00 p.m. featuring JohnnySwim, followed by Michael Ketterer.
Involved
Feel Better Fast, a series of workshops kicking off today at the Student Counseling Center, can teach you valuable skills that will make a big difference quickly. The workshops focus on topics like mindfulness, how to handle stress, and how to regulate your emotions. The group meets once a week for four weeks.
Volunteer
On-Campus Opportunities
VolShop Canned Food Drive
Next Monday, the VolShop will host a week-long canned food drive as a friendly competition against UGA's bookstore. Canned goods will be donated to the Second Harvest Food Bank of East Tennessee. Donation boxes will be located in the VolShop, Center for Leadership and Service (UC 305), Black Cultural Center, and Presidential Court Cafe. Show your Vol spirit and donate!
For a list of more on- and off-campus volunteer opportunities that you can get involved with throughout the semester, visit the Sign Up to Serve page.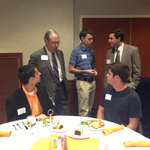 Chancellor Cheek and Student Life staff met with students to talk about current and upcoming construction during last week's Student Senate luncheon!
Top Tweets
@Hail2_Cail Just located the @DunkinDonuts on the @UTKnoxville campus. Day is made.#byemoney #icedcoffeeallday

Tomorrow, 6:30 p.m., Black Cultural Center
Join us to enjoy the performing arts featuring fellow students, faculty, and staff. If you're up for it, you can perform too! Mahogany Soul Café features the infamous open mic performances.
Wednesday, 6:00-7:30 p.m., International House
Enjoy a full authentic Korean meal and learn about the culture. Try some bibimbap or enjoy taekwondo and Korean dance performances.
Wednesday, 7:00 p.m., Black Cultural Center
This event will provide first-year students with information on how to manage your money during the first college semester. Learn about effective study tips and resources on campus that can help you transition smoothly to your new environment.
All events are free unless otherwise noted.
Visit the UT Event Calendar for more events and activities on campus.
For more news and updates, visit the UT Current Students page.
Visit go.utk.edu for a list of campus groups and clubs.
Student@Tennessee is an electronic publication sent for the benefit of current students, welcoming submissions from students, faculty, and staff regarding upcoming events, honors, and other news.
To submit, email us at [log in to unmask]